Testimonials
We have a 5 star rating with over 130 reviews!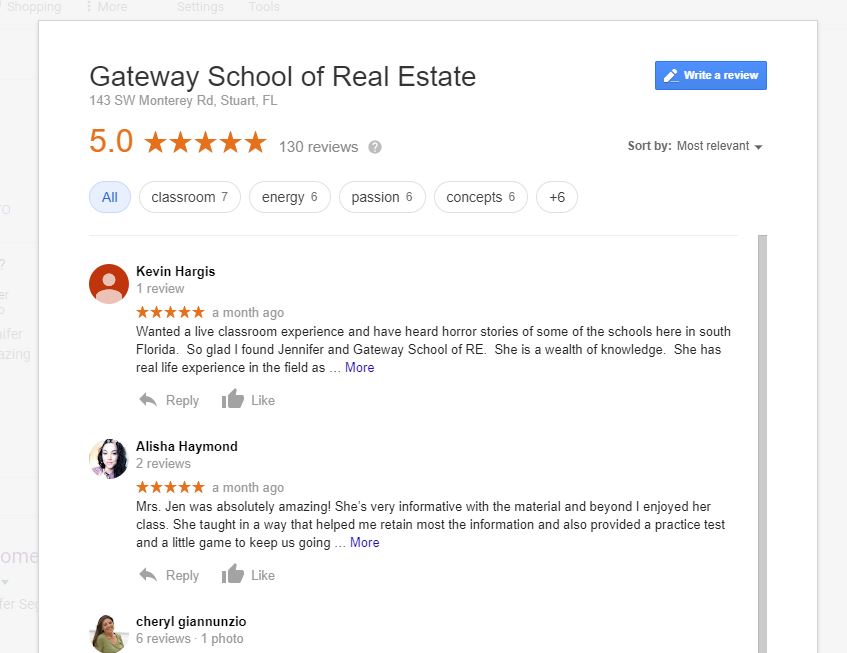 "Just wanted to thank you and let you know how much you had help me and my family..."
From: Maribel Fernandez
Thank you so much for all your help! I enjoy the course and I felt very comfortable on my test after going thru the course and reviewing the material. I really appreciate all your help.
From Jimmy
Can't thank you enough for all your hard work!! Your enthusiasm is infectious. I can't say enough good things about my experience. I hope to see you down the road. Thank you so much!
From Mr. Ghazanfar Saeed
I truly appreciate and applause course delivery time saving/brain storming techniques to benefit all participants. Thank you for the book to keep. With BEST REGARDS.
From Peg,
Hi Jennifer, I am pleased to say I finished the five units. I must Thank you! I am a visual/hands on learner. You make my life so easy to grasp the information with your easy to understand and fun explanations. I've learned things from you that I didn't through another company. I look forward to receiving the next units.
From Lynn Gatto Zophres
Jennifer, I cannot tell you how much I enjoyed meeting you and taking your class. I'm headed to Broward County now and I can't tell you how I wish I was headed to your class. You really have a special gift. I feel so lucky to have been a part of this journey. I look forward to taking more classes with you in the future. Anytime you would like to try some really good wines let me know. We would love to have you and husband over. Kindest Regards
From Charles Bergen
Dear Jennifer, Great three day real estate class. While the "Halo effect" is still following you around, I wanted to thank you for sharing your extensive knowledge of real estate with such enthusiasm. You have accumulated a ton of information over your 30 plus years in the business and I am grateful that you find the time to share it with beginners. It is obvious that real estate is your life and you love what you do. I am glad I took your class. Thanks again